Written by
Rikki Lear
Company news |
3 minute read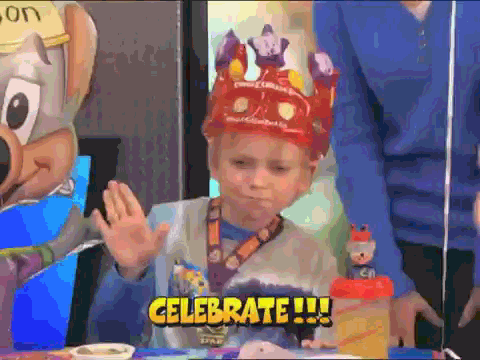 If you are a regular reader of our blog you will know we don't write about ourselves very often, our blog is 100% focused on providing helpful content to our readers.
But today I wanted to hi-jack the blog to share the news that today Digital 22 reaches a big milestone and give my thoughts on it.
In November 2011 Digital 22 was born, meaning today we turn 5 ! We will be having a 5th birthday party today, but more on that later.
At this point it is a great time to reflect on what the business has become, how we got here and thank a few people too.
Now, it's worth noting that I didn't have a business plan when I started Digital 22. It was actually pretty spontaneous. Backed up by a real desire to run my own business and my passion for digital marketing, I quit my in-house marketing job the day I landed back from a holiday (after receiving a less than warm welcome from my boss) and started on my agency journey.
With that in mind there wasn't a real vision for where I wanted the agency to be in 5 years (I only really got around to planning and strategy a few years later when I started hiring), but I have to stay I am extremely proud at where we are now ...
Now we do have a vision, strategy and specialism we certainly aren't sitting back happy with what we have. We have a great foundation to build something really special and have some very exciting things on the horizon.
Some of our agency certifications.
There have been a few key milestones for the business, such as hiring our first employee and winning our first international client, but our most recent was becoming a Platinum HubSpot partner.
Going through that process provided us with a clear differentiator among our competitors and allowed us to build on the search marketing successes of the past to provide our clients with more channels for growth.
I asked Diarmuid Walsh at HubSpot to reflect on the relationship so far, as he has been with us since Day 1...
"HubSpot and Digital 22 began discussions about forming a partnership when Digital 22 identified the value Inbound Marketing can deliver to their clients.
Well, Digital 22 are delivering phenomenal results helping some of their customers increase revenue 300%. They deliver their services on the HubSpot platform holding themselves accountable to three keys metrics. 1. Leads 2. Traffic and (most importantly to you) 3. CUSTOMERS. They will show you the exact ROI down to the last penny that you spend. In short, Digital 22 deliver value and as a result are now one of the few HubSpot Platinum partners in the UK. Its onwards and upwards"


Before we have a look at how we will be celebrating today I think it is worth noting that Digital 22 got here through the combination of a lot of amazing people...
People who have gone out of their way to help us grow; Mark Bryne at The New Media Company, Chris Peacock at Bubble Design, Julie Allen, Kevin Severn at Brickhunter and Gosia Sobierajska from Shoes For Crews.
Diarmuid and the HubSpot team; becoming a HubSpot partner was a defining moment for us. I always knew the digital marketing world was going the way of content but we needed a structure to merge content and our current service together. For us the inbound methodology and HubSpot was just that.
Our clients; an agency is nothing without it's clients. We like to think we go above and beyond with our clients and form real, long lasting, partnerships.
The team; without a fantasticly talented team we wouldn't be able to provide clients with the results we do. As a personal bonus, I also love the place I work which is all down to the team.


Okay, now onto the celebrations.
We decided there was no better way to celebrate Digital 22 turning 5 than to throw a traditional child's 5th birthday party with jelly, cake, cheese on a stick and a pinata.
To top it off we all came dressed as what we wanted to be when we were 5, here are the pics...
Most of the team in their fancy dress.
Me/Rikki - Founder, Owner & WWE Wrestler.
Andrew - Inbound Consultant & Baker (bread is model's own).
Amy - SEO Junior & Princess.
Paul - Content Executive & Cricketer (and one of the pass-the-parcel winners)
Danielle - SEO Consultant & Barmaid
Sam - PPC Executive & PPC Executive (living the dream!)
Steph - Content Executive & Penguin
Nicole - Work Experience & Fairy
Perry - Director & Snow White. With Cooper - Boss & One Of The Seven Dwarfs
And besides a great spread of party food, we had a filled to bursting pinata and a game of pass the parcel.
Pinata.
Ready to smash.
Mark from New Media with a big hit.
Paul missed. Twice.
Amy with great spinning technique.
Andrew with the final blow.
Party food.
So, that was how we spent our fifth birthday party in the office!
Thanks to all of our past, present and upcoming clients. We hope to have an even more productive five years. And many more!
I'm off for some buffet before the team eats it all.